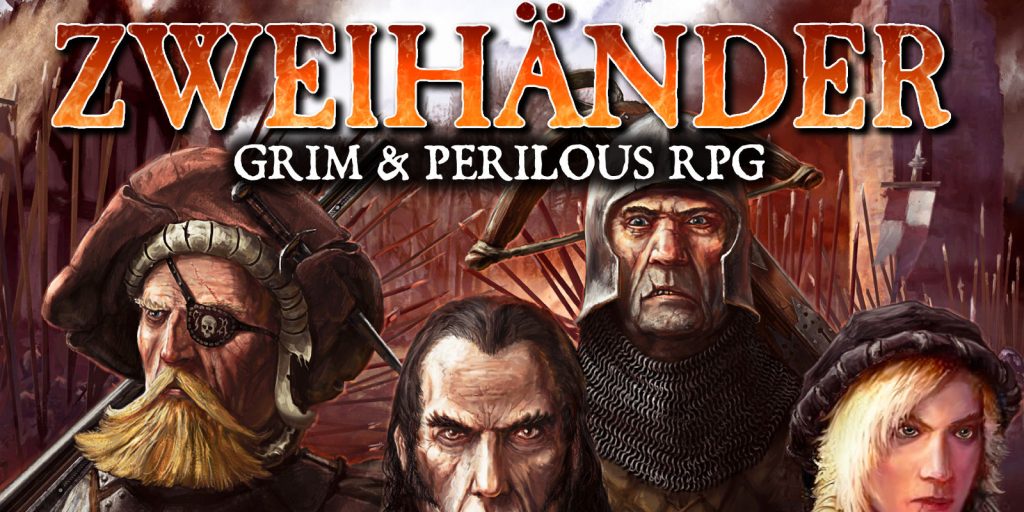 Eva Saralva and her companions continue our Zweihänder adventure on Roll20, running some simple investigations in the city after our somewhat explosive adventures out in the wilderness.
---
After I got up this morning, Calthar had already left on some errand of her own. I headed across town to find the Inquisitor Bernado. He was having breakfast, and seemed happy enough to chat with me. He hadn't fully moved on the items he'd obtained from us last time, but was hopeful to be able to do so soon.
I then showed him the ring we'd found out in the woods, and explained the events around it. He hadn't heard of Ernesto Bonetti, but then the man could have been going under a fake name. From the markings on the inside of the ring though he could tell that the wearer had been a member of the Order of Thorns, a branch of the Inquisition who were 'seized with divine purpose against those they feel are antithetical to the God Emperor'.
Bernado himself is a member of the Order of Sanctity, who are somewhat more subtle. I allowed him to keep the ring, since I definitely don't want to be found with it.
He reckoned that the plan had probably been to try and take out Jarl Svensgarde, who has a reputation of being a cunning manipulator. She was one of the two Jarls likely to be crossing the bridge, though exactly why Bonetti would have wanted to take her out we are only able to guess at.
After I returned to our inn, Calthar had returned with news of another job from Captain Sarkas, who wants us to take a discrete look around a couple of buildings in order to see how secure they are. I'm not entirely certain whether he wants to find vulnerabilities so he can make use of them, or because he wants to ensure that the places are safe.
---
The first place we visited was the Brawling Bear, an inn down near the river which seemed to be a favourite amongst Solbovians. It is sturdily constructed, and one of the tallest buildings in the area at three stories. It does have smaller buildings abutting it, including an apothecary which I went to check out in order to stock up on some of my supplies.
The aged couple working in there were cheerful enough, and they had a good selection of goods, so it's probably somewhere that I can use in the future.
For the Brawling Bear itself though, we didn't discover much that was remarkable, or that looked like a vulnerability. The most exciting thing was that Jarl Notisdötter will be staying here, and some of her people were already present, keeping an eye on us and everyone else in the inn.
---
The second building was a town house in the city walls. It was all shuttered up, with a firm from door and no windows on the ground floor. Similar to the first building it was three stories, but had no other buildings joined to it.
Based on where it was, I figured that it was probably close to a sewer, so we decided to go down and take a look for any subterranean entrances. Though we didn't actually encounter anything, I was certain that there was something large down there with us. At least it sounded large.
Fortunately it left us alone, and we were able to locate the house from below. There was what had probably at one point been an entrance into the basement, but it was now bricked up. Entrance would be possible, but probably not without a lot of noise.
Up above again, we went to get a ladder to try the upper floors. On the way back to the house, I noticed someone loitering in the street out front, presumably keeping an eye on the place. So we headed around the back and were undisturbed as we climbed out to check the shutters to the windows. Everything looked secure and well protected.
---
This morning we handed our report in to Captain Sarkas and collected our pay. I'm not sure whether there were other things he had been hoping that we'd find, but there didn't seem to be much there which was of interest to us.
We've got six days now until the Baron's Conclave, and we're still not sure exactly what the Baron is up to. It's been a long time since we've tried to investigate exactly what he's doing, though there haven't been that many leads for us to follow up on, unless we try some direct breaking and entering. But without knowing what we're looking for, that would be a risk without any obvious payoff.